In October 2017 we were delighted to hear from John Cannon, one of the founding members of the club, who provided us with these fascinating insights into the club's inception:
" My Father, Lewis Cannon, and I played at the Brookdale Social Club in Bramhall (still going strong, I see) up to and including the 1946-7 season.  It must have been in mid-1947 that my father and his friend, Charles Sinclair, formed the East Cheshire Club, because the club won the Cheshire Cup in their first season, which is confirmed in the attached Stockport Advertiser cutting.  Charles Sinclair's name lives on in the English Counties Correspondence Chess Championship Div.2 Sinclair Trophy and the Northern Counties Sinclair Shield, both of which he donated.
Stockport Advertiser, June 1948
The Cheshire Cup team was of ten players, and the 11 players shown in the second photo are, rather unsatisfactorily, named in board order!  They are: back row lt. to rt.: Finlayson; Yates; J.Cannon (me); Frost; Duncan and Turner (the secretary).  Front row: L.Cannon (my father); Davies; Sinclair; Grieg and Taylor.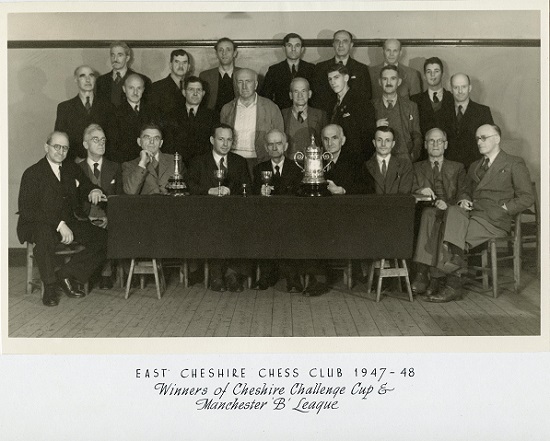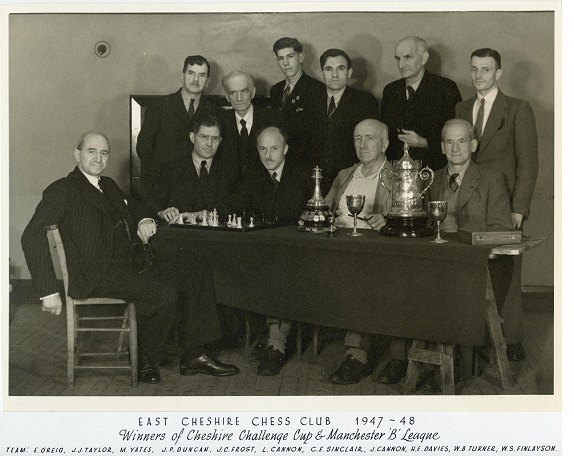 Looking back it seems remarkable that such a strong team was assembled over such a short period of time.  Yates and Greig were former Cheshire champions, and also attached is a piece I wrote about Maj.Greig in BCM in May 1987, in answer to a query about one of his chess books.  He used to arrive at the club by motorbike, clad in a flat cap, a very heavy leather greatcoat and waterproof leggings, and he coached a young lady neighbour of mine at the Northern Lawn Tennis Club in Didsbury.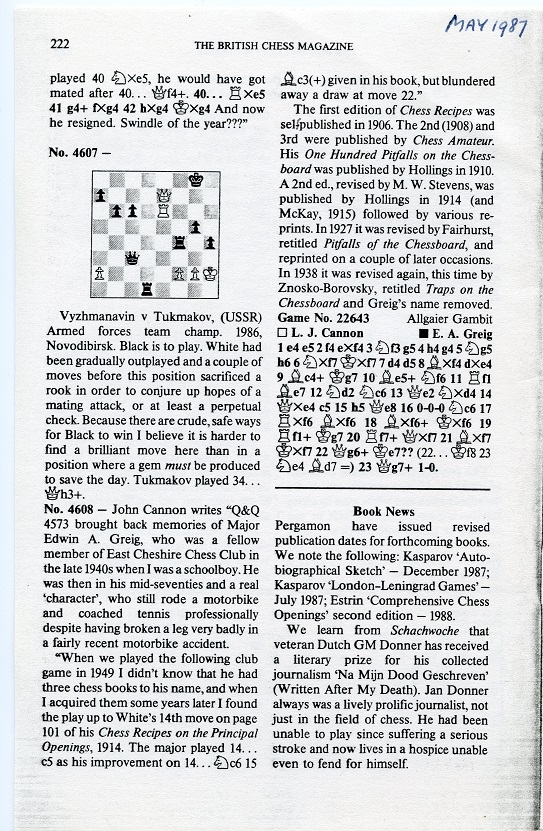 We lived in Syddal Road, Bramhall, but after I went to Durham University in 1949 (for 7 years) I was never again a permanent Bramhall resident and only played in and for the East Cheshire club occasionally, before moving south in 1956.  My parents moved south in 1965 and my father died in 1966.
Remarkably I find that I have my copy of the first East Cheshire club card, in the little scrapbook from which the cutting comes!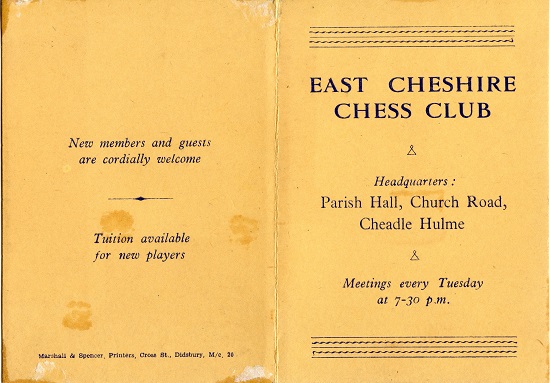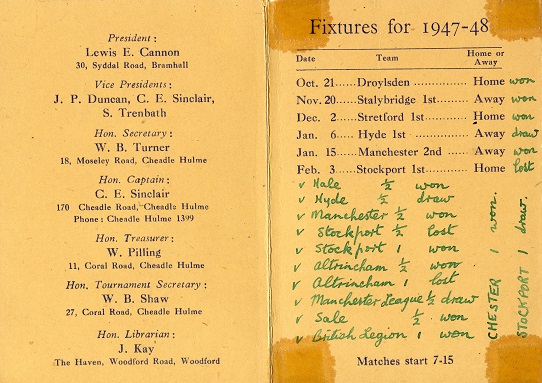 One last memory - my father also knew Vernon Dilworth, who gave his name to the Dilworth Variation of the Ruy Lopez, quite well.  On New Year's Day 1953 I played a 41 move friendly game against Vernon (using a clock), at our house.  I was W and he played his variation and remarkably I won!"
Clearly then, John was a strong player in his own right - indeed, here are a couple more items of interest from the family scrapbook"
"This second part of the History of Stockport Chess Club (I don't have the previous part), mentions the 1947 Stockport and District Boys Championship, which I won, and the Stockport Advertiser photo is of the Cup being presented.  I won the two-game final against the younger brother of the late Alan Phillips, who was then Stockport C.C. Champion and later 1954 co-British Champion with Lenard Barden.  In the photo Alan is immediately to the right of my neck."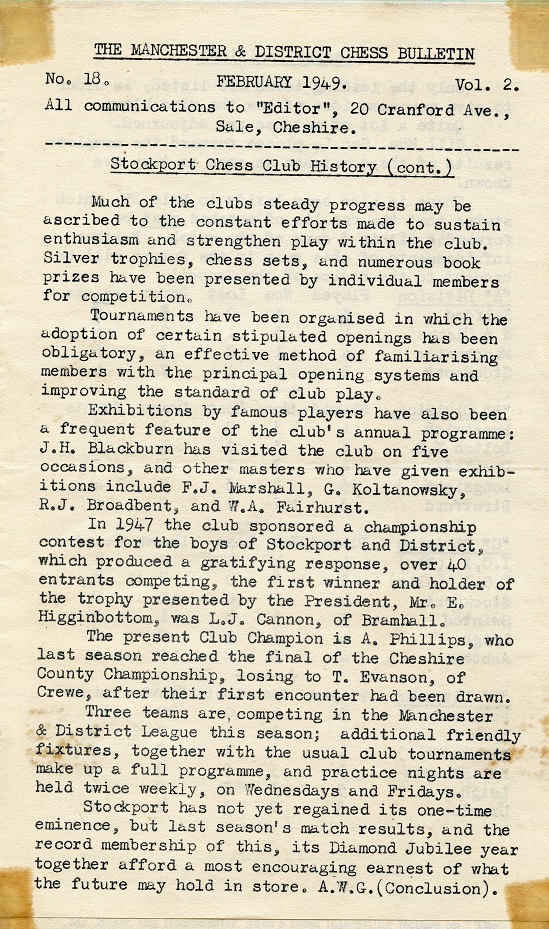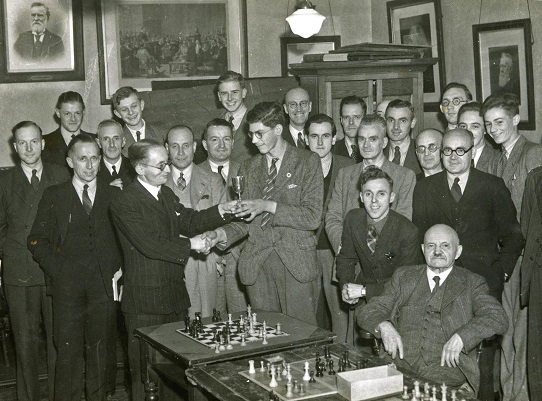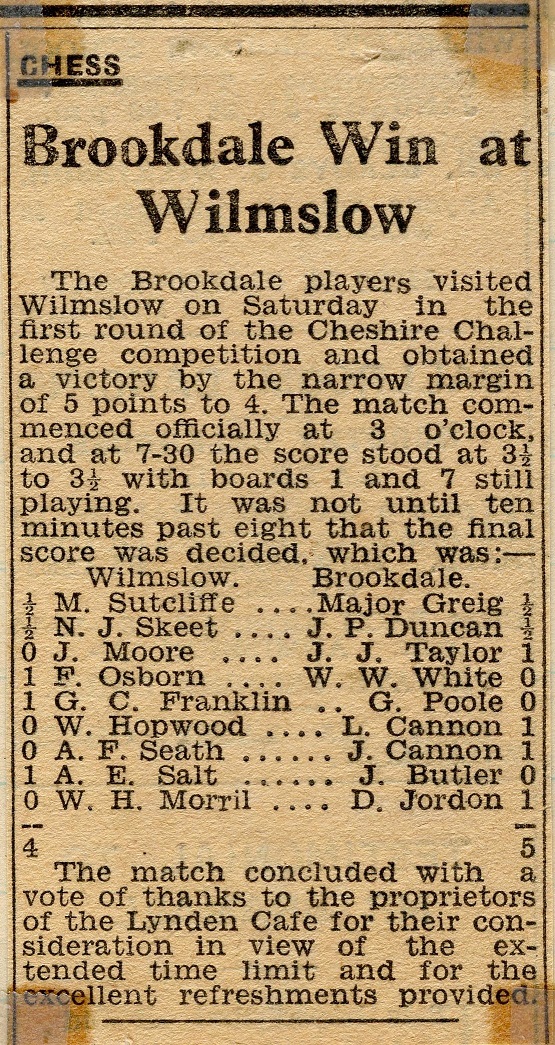 Stockport Advertiser, Autumn 1946. Played in the first round of the 1946-47 Cheshire Cup competition
Many thanks to John for providing all of the above!
MH